Welcome to Quechee Vermont!
and the townhouse of
This site has information about the town of Quechee, Vermont and the townhouse that we rent. Click here for information on:
---
Quechee (pronounced Qwee-Chee) Vermont is a small town located in the Ottauquechee River valley. It is approximately 140 miles north of Boston, located along Route 4. The general route to get there is Route 128 North to Route 3. Route 3 North to the Everett Turnpike, continue to Route 89. Route 89 North to Exit 1 in Vermont (Route 4). Route 4 West to Quechee. Totally coincidentally, the New Hampshire State Liquor Store is almost exactly half-way and makes both a great rest stop as well as a good place to buy alcohol cheap. :-)

Quechee is the site of:
An Annual Hot Air Balloon Festival
Scottish Festival (August)
Cross Country and Downhill Skiing
Golf Tournaments
Crafts Festivals
and much, much more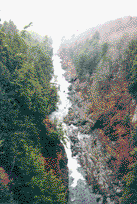 As you enter Quechee from the east along Route 4, the first and most obvious sign is the famous Quechee Gorge. The gorge is a beautful sight during all four seasons.

The Quechee Gorge is sometimes referred to as the Grand Canyon of the East. It is a wonderful place to visit. There are trails, picnic tables, etc. As you drive to Quechee you will pass over the gorge on Route 4.

There are many places to park nearby; it is well worth your time.

While Queechee is a small town in a gorgeous setting, it nevertheless offers world-class crafts and glass blowing at Simon Pierce (whose wares are found on Newbury Street in Boston), fine dining at highly-rated restaurants and the convenience of one of the best ski equipment and rental shops.

The majority of Quechee was built as a private resort. There are many townhouse complexes, each with about a dozen or so buildings. There are also a small number of houses as well. Central to the resort is the Quechee Club. The Quechee Club has two championship 18-hole golf courses, 12 tennis courts, a private ski slope, sledding, many kilometers of cross-country ski trails, indoor and outdoor swimming pools, racquetball courts, restaurant, fitness center, and more.
---

Our Townhouse - Saltbox Village-9C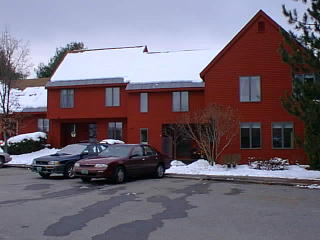 Our townhouse is located about one mile from the center of town in the Saltbox Village complex. Saltbox Village is comprised of twelve separate buildings, each with three to five units.

Each unit has a full kitchen, dining room, living room and bathroom on the first floor. Bedrooms and bathrooms are located on the second floor. Our unit has two bedrooms; the master bedroom has a queen size bed, the second bedroom has two twin beds. In addition, there is also a pull-out bed in the couch on the first floor. In total, we sleep six comfortably.

While we rent our townhouse, it is also our second home. This is not pure rental property whose condition and contents we barely maintain. We spend as much time there as we can. Hence, the condition and content are generally considered "first class". We have had many renters come back year-after-year and comment how we keep changing and improving things. A few years ago we put down new carpeting, new tile in the kitchen and dining room and new furniture in the living room. Within the past few years we have replaced most of the curtains and drapes, bought new bedroom furniture (from Pompanoosuc Mills) and new mattresses.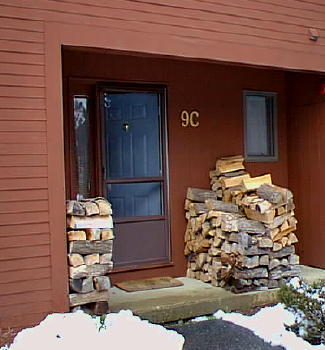 So, what you will find is our second home. It is fully equipped with everything from multiple TVs, VCR, and stereo to a microwave and popcorn maker. Renters are welcome to use any and all of this. We have more than adequate towels, blankets and pillows. The only thing we do not provide is food (and even then, the condiments and the like we leave you are welcome to). When you come up, the only thing you need to bring are your own personal items.
As you enter our unit you will find firewood for your use. Feel free to use however much you would like. We only ask that you tell us if we are running low (especially mid-winter, it is hard to get firewood without adequate lead time).

Click here to view a floor plan and more photographs of the townhouse.

---

Rental Rates
Our rental rate is based on the number of nights, time of year, and day of the week. That sounds more complicated than it really is. The goal is to give discounts for additional nights and mid-week rentals and off-season. Generally, the fee structure is the same one used by the local rental agencies, but the rates about 25% less. The following table summarizes our rates:

| | | | | | |
| --- | --- | --- | --- | --- | --- |
| | 2-Nights | 3-Nights* | 4-Nights* | Weekly | Monthly¥ |
| Standard Rate | $379 | $565 | $749 | $849 | $2,349 |
| Christmas/New Years & Presidents Week | N/A | N/A | 899 | 1,299 | N/A |
*Three or Four night minimum required on some holiday/special weekends.
¥Months are defined as four calendar weeks (28 days).
Rental does not include access to clubhouse ammenities.
All rates subject to VT 10% Room Tax

Payment by personal check, Venmo, or PayPal accepted.



Click here to see our current reservation schedule. Note: we do not guarantee this is 100% up-to-date. Contact us to confirm availability.




Click here to see our Policies and Procedures
If you are interested in renting our townhouse, you may contact us at:
508-358-4688 (Home)
508-245-9398 (Cell Phone)
Return to top